Showaround Locals in Xi'an: Meet Marika
Background: I'm Marika from Finland, and I'm currently living in Xi'an, China. China is the third largest country, rich with both culture and history, and its universities are increasingly recognised worldwide.
All these factors have made my decision to move here easy to make. I've been studying here for four years now and even after all this time I still find myself loving every moment of it and embracing my experience of getting to know the culture better every single day.
Showaround: Why did you decide to become a Showaround Local?
Marika: Over a year ago, I saw an advertisement by Showaround, and I thought what a wonderful and novel idea it is. For me, it was a no-brainer because I'm always ready to introduce Xi'an to each and everyone who is interested.
And, well, and it's also a valid excuse to revisit the tourist sights and spend time coming up with sightseeing suggestions for visitors, which they would be unlikely to find on their own.
Showaround: Name three super local things to do in the city?
Marika: I have to say that there isn't such a thing as 'super local' here since there are so many people!
The city is so big that if you ask someone from the northern part of the city, he might answer completely different than someone from the south side. But from my experience, I would say that the street barbecue is the ultimate thing to do in Xi'an during summer months!
These barbecues are a completely different concept from the usual restaurants, and these places can be found almost on any street. There is a little cart that the cook pushes around, and then he puts a few foldable tables and chairs out, and voila—it's BBQ time!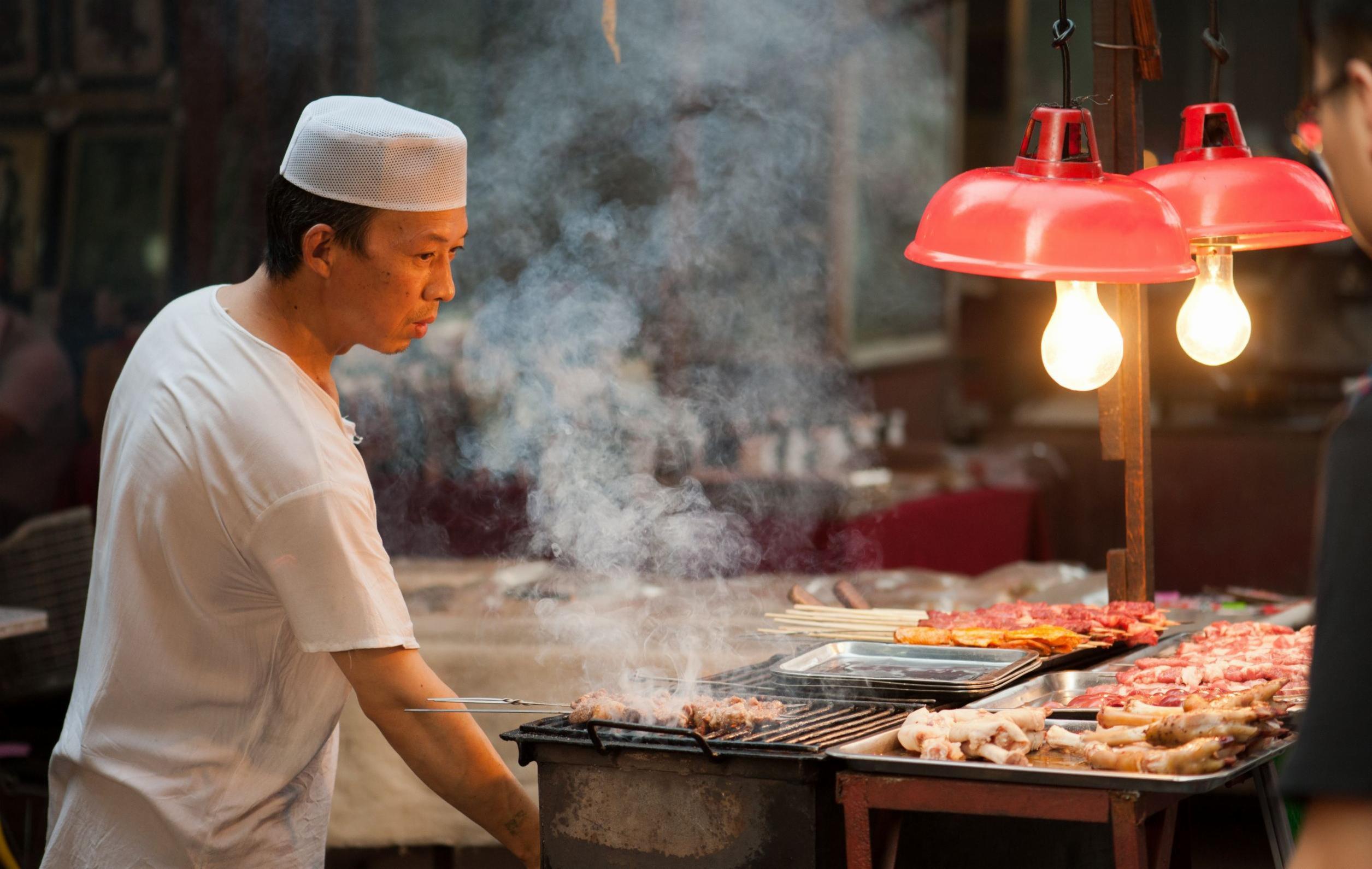 Rolf Svedjeholm/123RF.COM
Apart from eating, Chinese people love to shop, so checking the biggest shopping mall SAGA would be another really local thing to do.
Showaround: Favourite restaurant?
Marika: I have quite a few favourite restaurants actually, maybe it's because I'm not good at picking only one thing that I like the most.
First, I have to mention that Shaanxi province has the best noodles in China, so if you come here, you have to try some out. For a noodle feast, I prefer our school cafeteria, but there is also another place which you can find everywhere throughout the city, it's called LanZhou LaMian. Lanzhou is a city and Lamian means pulled noodles.
Then there is also a little sushi restaurant in the city centre, which is a buffet style restaurant, so make sure to come hungry because it's all-you-can-eat type of place. The last favourite spot on my list is the Elephant Pizza, which most foreigners in the city know because they make the most delicious pizza ever. The eatery itself is very welcoming and cosy, so we tend to go there to celebrate birthday parties.
Showaround: Best place for a drink?
Marika: This one is easy, since my arrival to Xi'an, I've only ever favoured one place to have drinks, and that's Helen's. They have three locations in the city and they're all up to standard, but we oldies prefer the original one over at JiXiangCun. Helen's is really foreigner friendly, which means they have staff that speak English and the prices are really reasonable considering they have lots of imported alcohol.
After Helen's it's time for an after party at Faces, which is the coolest club in town, filled with expats and tourists. China doesn't have the same kind of bar and clubbing culture as the Western countries do, so if you want to find a bar that Chinese people prefer, you most likely will be disappointed.
Showaround: How would you describe the local people of Xi'an?
Marika: People in Xi'an are really friendly and welcoming. You will bump into people who will want to make friends with you or take pictures. If you need help, you only need to ask and people are happy to help you (if there's no language barrier). Xi'an is not one of the larger cities in China and we also live pretty far away from the important ones like Beijing and Shanghai, so people here don't really speak English.
And that's why it's a handy to have a local like me as a local to translate or help if you want to, let's say, buy something. People in Xi'an also have a special feature we call Kan ReNao, which in English means to 'watch the scene of bustle'. If something happens on the street, for example, a boyfriend and girlfriend are fighting, suddenly everybody nothing to do and they will stop and watch for God knows how long!
Showaround: Thank you Marika for your answers!