This guest post was written by Sarah Attaway.
Hanoi can be an overwhelming city. Six million motorbikes roam the city. Street food vendors take over the sidewalks. Power lines clutter the streets. Yet, if you know where to go, and take your time exploring, Hanoi becomes a beautiful mess. It may not be shiny like Paris, but the city is flowing with French influence, women selling gorgeous flowers on the back of their bicycles, and locals are extremely kind. Take a look at how I like to spend a day in Hanoi.
Start with a hearty breakfast
Local breakfast in Hanoi consists of noodle soup or rice and a protein, often chicken. The breakfast options are not very different from lunch and dinner, which is why the best way to start the day is with a western breakfast at Hanoi Social Club. Hidden down a small side street, Hanoi Social Club is a healthy option that also caters to vegetarians and vegans. My favorite dish is the baked eggs and avocados.
Take a stroll around Hoan Kiem Lake
After a hearty breakfast, take Hang Bong Street to the very top of Hoan Kiem Lake. Hoan Kiem Lake is the center of Hanoi. Walk the loop of Hoan Kiem Lake to work off breakfast! The park around the lake is always perfectly curated with vibrant flowers. During the early morning hours and after dark when the temperature is the nicest, locals exercise outside by the lake. It makes for fun people watching.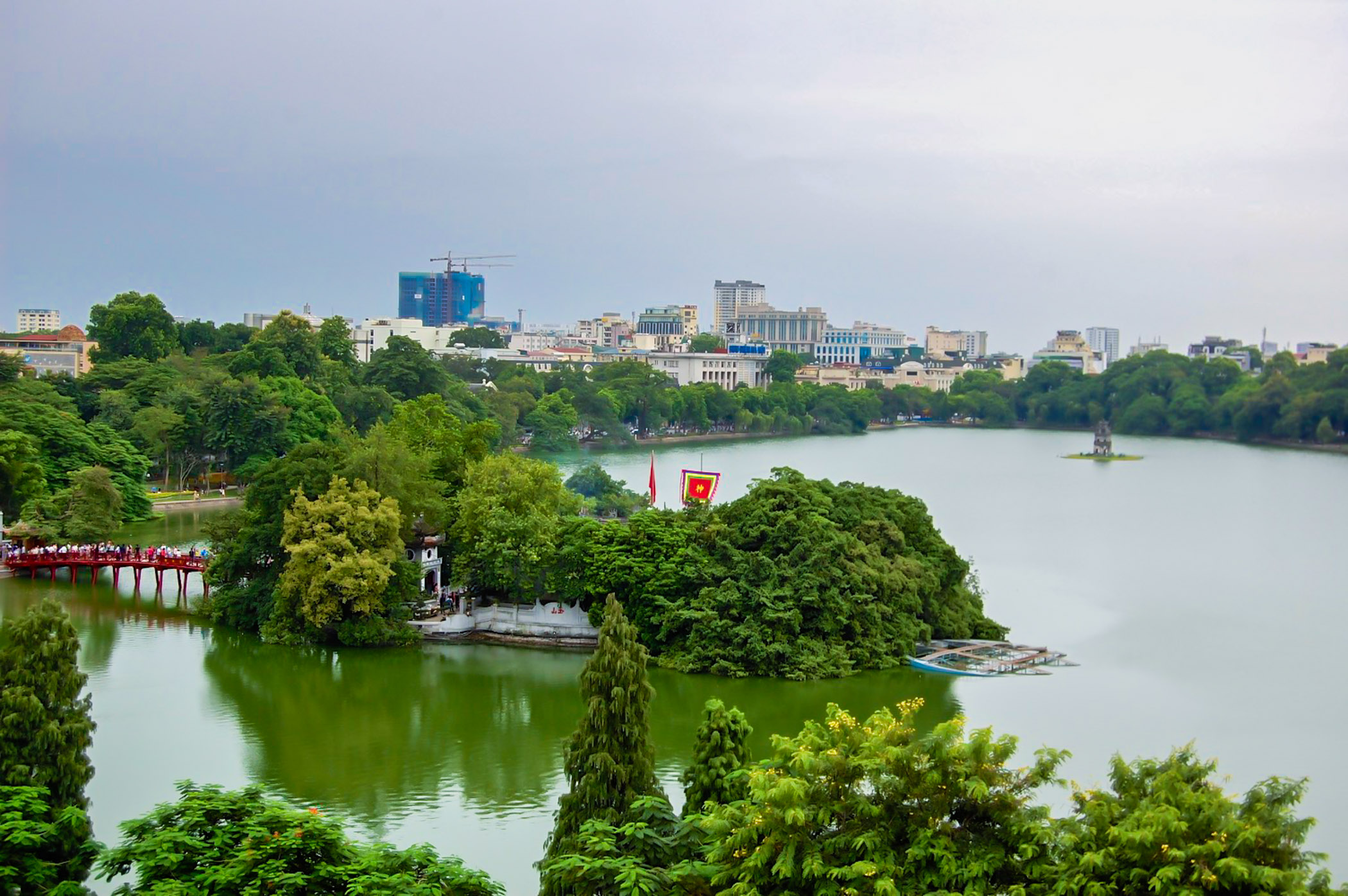 Get your caffeine fix for the day
Exit Hoan Kiem Lake at the northeast corner and head one block right to Nguyen Huu Huan Street. The Old Quarter was originally a walled city. Each street was named after whichever guild occupied the street. Gold was sold on gold street where the gold guild was located. Woven mats were sold on mat street where the mat guild was located. The list goes on and on. While the streets no longer sell the historic items they once did, the Old Quarter streets still possess their own identity. Nguyen Huu Huan is often referred to as Coffee Street; most of the businesses located here are coffee shops. Pick whichever coffee shop catches your eye or walk down the narrow passage at 39 Nguyen Huu Huan street into Giang Café. The original founder of Giang Café was the creator of egg coffee. Grab a stool upstairs and order an egg coffee. Drinking coffee is a very social experience in Vietnam so take your time enjoying it!
Explore the oldest section of Hanoi
Now that you have your caffeine fix, continue to meander through the narrow streets of the Old Quarter. Be sure to stop at the corner of Ta Hien and Luong Ngoc Quyen. It may be quiet during the day, but at night this corner transforms into the busiest corner in the city and is where the cheapest beer in the world, bia hoi, is served. Make sure to come back here for at least one beer in the evening. The Old Quarter is a great place to pick up souvenirs, such as a "Good Morning Vietnam" t-shirt or a set of fancy chopsticks.
Eat Hanoi's famous street food
Once it's time for lunch, pick a stall at a street food vendor in the Old Quarter. My pick is located at the corner of Cau Go and Cho Cau Go for bun cha. Bun cha is a noodle soup with barbecued pork buns that is native to Hanoi. Add various herbs, including basil and coriander, for extra flavor.
Discover Hanoi's largest market
Head north through the Old Quarter until you stumble upon Dong Xuan Market, the largest market in Hanoi. The wet market sits on one side of the building and sells produce, fresh herbs, live seafood, and various cuts of meat. The inside of the market sells just about everything, including luggage, clothing, fabric, purses, toolboxes, and kitchen supplies. Spend your time getting lost throughout the many floors of the market.
Sip on a pho-inspired cocktail
The most famous Vietnamese dish is obviously pho. However, if you're visiting Hanoi when it's sweltering hot, pho will be too hot to eat. Instead, grab a refreshing pho cocktail at The Unicorn Pub. You'll be amazed that it really does taste like pho and even more amazed that it is equally as delicious in cocktail form. Be sure to watch how it's made before drinking it. Here's a hint: it involves fire!
Eat one more Vietnamese meal for the day!
There's still one meal left in the day and when in Vietnam, it's always important to eat as much yummy Vietnamese food as possible. The Hanoi Cooking Center is a short 5-minute walk from Unicorn Pub. There is a small courtyard for outdoor seating or an indoor restaurant upstairs.
Lastly, take your time!
There is always something new to find around the next corner. I'm still finding new things on the street I live on! To get the most out of your day, take your time. Go down the side street that looks appealing. Go into the little shop that catches your eye. Exploring the ins and outs of Hanoi is how you find the hidden gems.
Guest blogger: Sarah is an American expat based in Hanoi, Vietnam. When she isn't teaching English, she travels through Vietnam and the rest of the Southeast Asia, as well as cultivates her luxury travel blog. So if you're looking for insightful and valuable content, you should check out Global Gal. On her blog, Sarah shares her wonderful travel guides, destinations and so much more.
For more goodness follow her on Twitter, Instagram, Facebook, and Pinterest.
Showaround: Thank you, Sarah, for being our guest blogger!