Eat, Party & Travel Like A Local: Things to Do in Bangkok
Thailand is a popular destination not only among nomads and expats but also among those who are looking for a more exotic vacation getaway. In fact, when you mention that you're hunting for holiday deals in Thailand, many envision a picture perfect, faraway and somewhat mysterious location. However, if you want to get a taste of local Thai lifestyle, then blue skies and pristine beaches are not the only things you should be after.
The capital city, Bangkok, has a lot to offer too: lively nightlife, hundreds of cultural attractions and things to do outdoors, which doesn't make the process of researching ideas on what to do in Bangkok any easier.
For that same reason, we've put together a check-off list with some suggestions that can be used as a pocket Bangkok guide and which also gives you a better idea of what you can expect from Bangkok's local tours.
Eat Like a Local: Best Food in Bangkok
Locals agree that the best food in Thailand can be found in Bangkok. The capital city has an incredibly dynamic dining scene with numerous culinary offerings to choose from and with dishes for almost every palate. Most of these options are also affordable, so you won't have to splurge every time you go out to try some new Thai food.
What to eat in Bangkok
One of the best ways to get a taste of authentic Thai food is to start your journey from the bottom and work your way to the top. What do I have in mind? Start with trying traditional Thailand food from street vendors and then eat your way up to the top, to some of the top restaurants in Bangkok.
Some must-try dishes are Pad Thai (fried noodles), Tom Yum Goong (spicy shrimp soup) and Gaeng Daeng (Red Curry), they can be found all across Bangkok at street food stalls or local diners like Banana Leaf.
Best street food in Bangkok
Whoever called Bangkok the capital of street food was absolutely right. Street food is an important part of Thailand's eating culture so it's no wonder that it can be found nearly everywhere, from popular and crowded squares to tiny and hidden away alleys.
You cannot go wrong with eateries located close to Victory Monument and markets like Sriyan. Generally speaking, markets are your best bet because most times in these locations you can find food that's both delicious and cheap.
Top restaurants in Bangkok
It's not only street food that Bangkok is famous for. The metropolis also caters those who are more into fine dining and things like white linen table cloths, Michelin-star quality dishes and fine wine.
Eating out at restaurants like Issaya Siamese Club or Eat Me are most likely to be more expensive than what you're used to paying in Bangkok, but it's well worth it, especially if you want to experience the contrasting Thailandese cuisine.
Party Like A Local: Thailand Nightlife
For those who love partying, the capital of Thailand is a land of opportunities filled with fun times and sleepless nights like no other.
From Full Moon parties and swanky rooftop bars to lavish electronic music clubs - Thailand, and in particular Bangkok, have everything you'd want to experience from a holiday destination.
Best clubs in Bangkok
Bear in mind that visiting the Full Moon party is a good first experience of Thailand's nightlife, but there certainly are other options for a night out that are more favoured among locals.
Feeling like a fancy cocktail and head-spinning views? Vanilla Sky and Sky on 20 are both great places to kick off a fabulous night. For a more laid-back atmosphere and a mix of locals and travellers, a bar called Parking Toys offers not only a large venue but regular band performances too.
Full Moon Party in Thailand
Originating back in the 80's as a small hippie-like gathering the celebration has over years grown into the Full Moon Party, attracting thousands of people every year. The party is located on Haad Rin beach on the island of Koh Phangan.
What to expect? Crowds of people covered in body paint, a white sand beach, excessive amounts of alcohol and non-stop playing of electronic music.
Live & Travel Like a Local: Bangkok Activities
As the city is busy all year, people who are not first-time visitors know that the best time to visit Bangkok is November until the end of December, the rainy season is over and the masses of tourists have not yet arrived. Seasonality is one of the most important factors when planning your activities in Bangkok.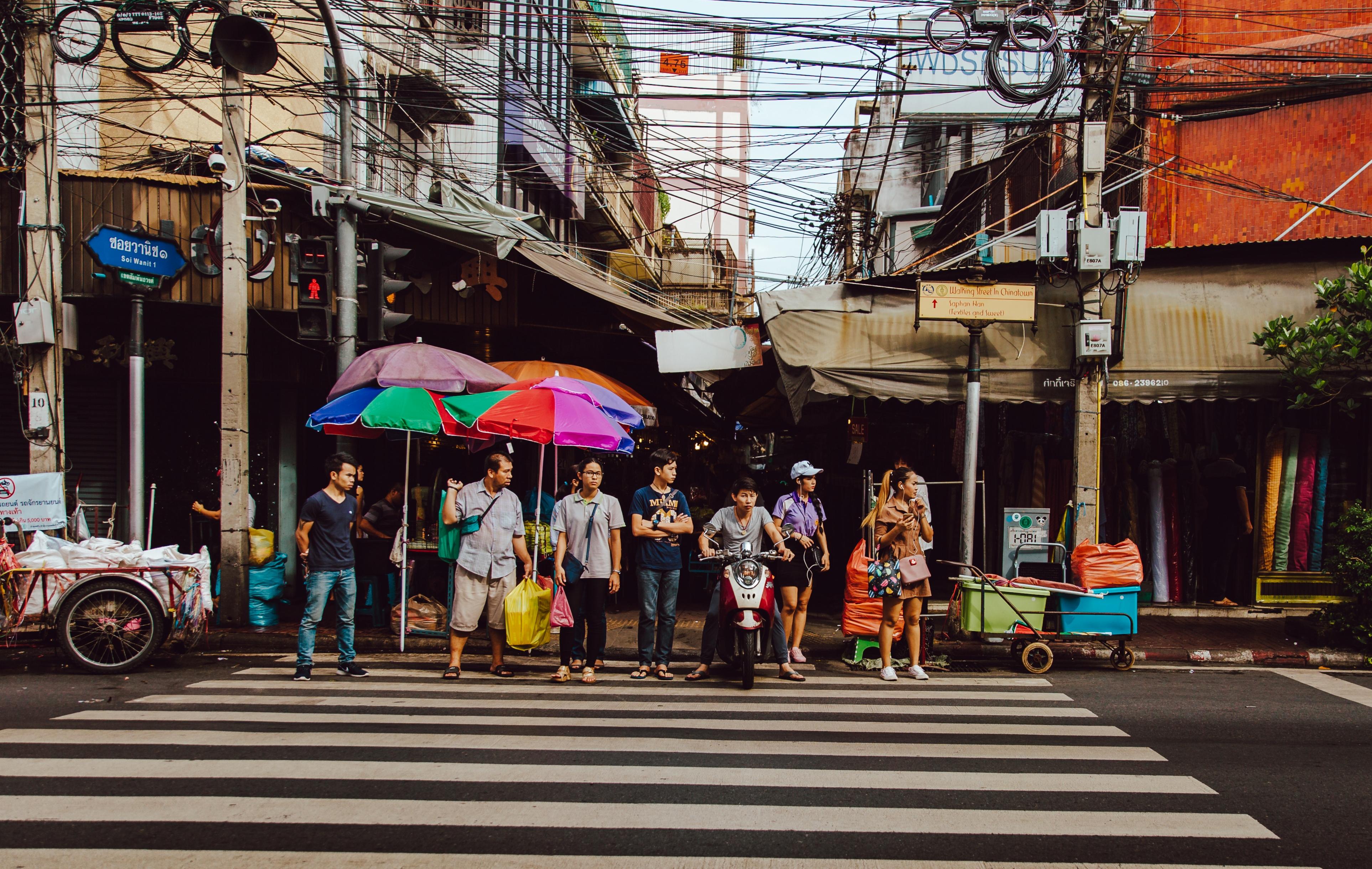 Another thing to consider is whether you want to leave all the planning to a tourist agency or experience Bangkok in a unique way, through the view of its locals.
Places to visit in Bangkok
So the places you'll visit highly depends on if you're visiting as a group of tourists or you're accompanied by someone who actually lives there. Either way, three things cannot be missed during your stay: the Grand Palace, Wat Pho temple and the silk businessman Thompson's house.
Take a tour with the locals
In case you don't have friends in Bangkok who could tell you more about the culture and its traditions, you can book tours with locals. From residents, you can learn not only where to find home-cooked meals, the best shopping deals and where their favoured places are to hang out but also hear more about what their daily life is like.
Best markets & shopping in Bangkok
One of the main places where all the local life takes place is at the market as it packs food, culture and history all in one place. Bangkok has an abundance of outdoor markets for you to choose from, one of the most popular markets called Chatuchak, but you could also experience something more out of the ordinary like Taling Chan floating market.
Even if you're not planning a shopping spree, it's worth roaming the aisles and immersing yourself in the activities, which locals consider part of their day-to-day life.