Discovering the hidden secrets of Helsinki
This guest post was written by Dave Brett.
Helsinki can be a tough city to navigate, but by unearthing many of Helsinki's hidden secrets you can unlock many of the city's hidden gems.
Helsinki is the capital city of Finland located within the Nordics of Northern Europe and on the edge of the Baltic sea.
Helsinki airport is also home to Finnair, which offers many global connections to the city and it might be possible that one day you will be in Helsinki on a stopover in Finland.
Use this unique opportunity to explore the city of Helsinki and check out this guide for a few of my favourite Helsinki secrets.
Travel around Helsinki by tram
The best way to explore Helsinki is to do as the locals do and travel by tram. Jump on Nr. 3 which goes around Helsinki in a loop covering all the most popular attractions.
Individual tickets work on a two-hour time limit which allows you to use multiple options to reach your final Helsinki destination.
For the budget savvy, grab a Helsinki card which includes all transportation options (tram, bus, boat) over your period of use.
HSL day cards also include return boat trips to Suomenlinna which is a fun trip to make.
Walk around the lake and grab a coffee at Café Sininen Huvila
Helsinki is full of nature and you simply can't avoid it on a visit to the city. Put aside a few hours to walk around a few of the local lakes. If you go to the Helsinki tourist information office they do offer maps to explore the surrounding nature of the city.
Head to Café Sininen Huvila to enjoy afternoon tea and a sunset. It's truly a magical location to enjoy a cuppa being surrounded by the lake and nature.
Enjoy a coffee at café Fleuriste
If I had to recommend a café in Helsinki it would have to be café Fleuriste.
You will find this charming boutique café in the art district of Helsinki.
Enjoy its large selection of Nordic style pastries and artisan coffee.
One thing I love about this café is its secret courtyard located at the back of the café which is perfect for those midday coffee chats to soak in the sun.
Bier Bier for the best selection of beer in town
Like beer? So good, they named it twice! Bier Bier has the largest selection of special beers on offer in Helsinki.
Head here with a handful of friends and sample the wide selection of beer on offer.
I love the candlelight setting and knowledgeable staff who can offer you a wide selection of recommendations to please your taste buds.
Block by Dylan for brunch
Overlooking the harbour market, this spot is great for people watching as the market sets up for lunch time trade.
The selection on offer is huge and you won't leave with an empty stomach, that's for sure.
Go for a morning swim at Allas sea pool
Newly opened this year, Allas sea pool offers the unique experience of going for a swim in the Helsinki sea.
For brave souls, Allas sea pool is even open in the winter! I'm not sure how long you could stay in for but sounds like a real refreshing Finnish experience to try in Helsinki.
Have dinner in a Helsinki prison
Not the usual dining experience you would expect, but this is Helsinki after all.
Hotel Katajanokka was once a prison in Helsinki and has since been restored and converted into a hotel and restaurant.
Luckily, the menu has also been changed and the chef cooks up a mean selection.
However, they still use authentic prison cups and plates to help you enjoy the prison surroundings.
Yes, the restaurant is located in the dungeon cell. Bon appétit!
For the best view over Helsinki head to Ateljee sky bar
This is another one of my favourite hidden secrets to Helsinki. The Ateljee sky bar is located on the top floor of the Solo Sokos Hotel Torni.
Here you can witness a stunning view over the entire city and this place is a perfect spot to enjoy sunset cocktails.
Jädelino for the best ice cream in Helsinki
Jädelino is located in Teurastamo which used to be an old meatpacking district in Helsinki and has recently been renovated with trendy cafés and bistros worth checking out.
On a sunny day, head to Jädelino to try some homemade gelato, Finnish style.
Grab the best burger in town at Naughty Brgr
Feeling naughty? Head for Naughty Brgr for the best burger in Helsinki.
Expect a waiting time as all the burgers are cooked fresh to order.
Here you can sample the wild and wacky burger choice menu which is out of this world.
The Nordics are big on sweet potato fries and with a large selection of sauces on offer, this spot is not to be missed.
Visit Nuuksio National Park
The Nuuksio National Park is the best way to experience the Finnish nature from Helsinki.
You can easily reach the national park by grabbing a 30-minute train to Espoo. From here you can jump onto a local bus which will take you to the Finnish Nature Centre Haltia, located within the national park.
Feeling adventurous? Book a tour with Feel The Nature, who can take you out to explore some of the local lakes in a kayak.
Try picking and eating wild blueberries and mushrooms along the way with a local guide who can show you around the Finnish woods.
Löyly, the best visitor friendly sauna in Helsinki
The new sauna on the block, Löyly opened its doors in 2016 and is quick to become one of the hottest attractions in Helsinki (literally).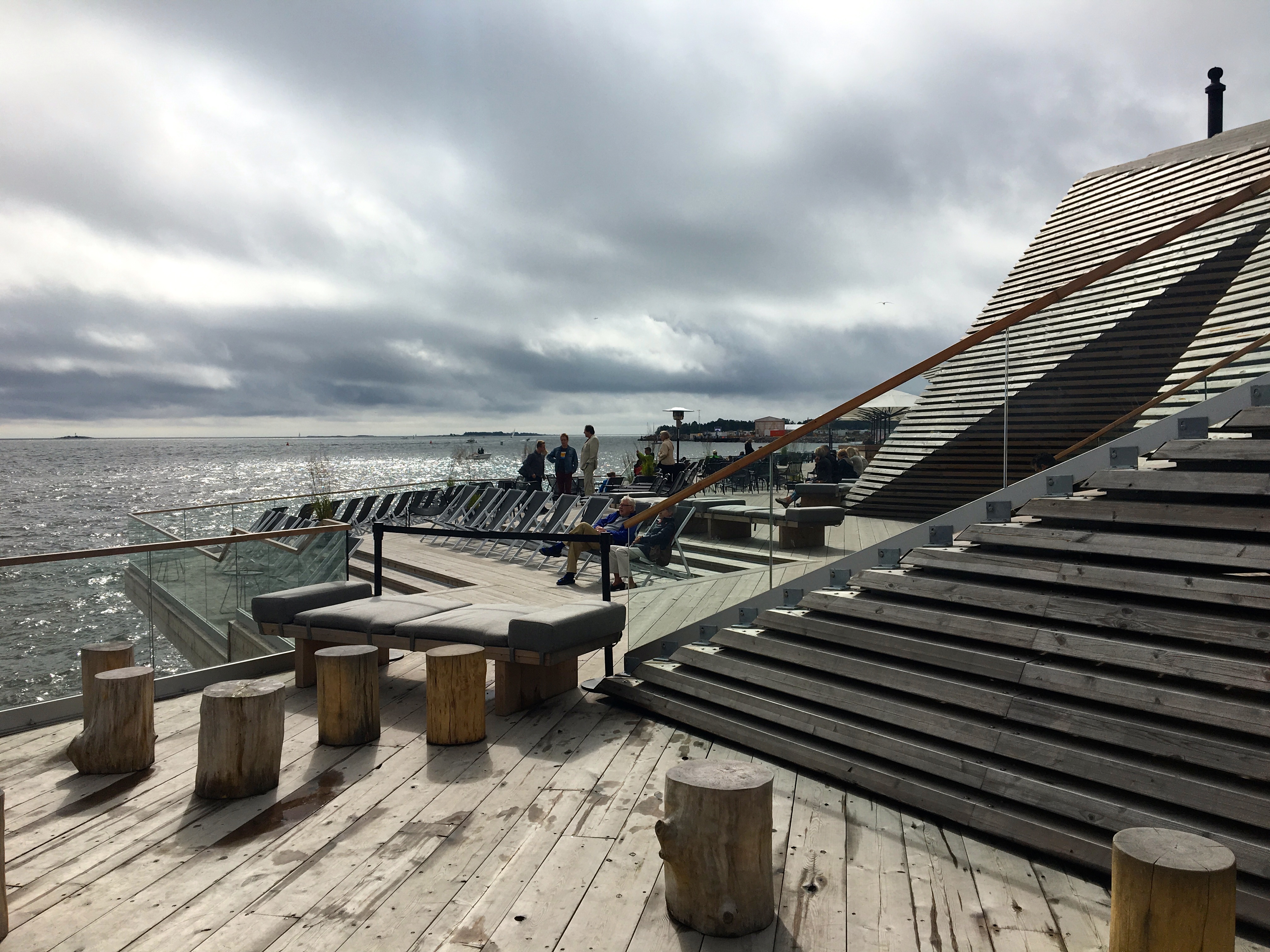 A trip to Finland is not complete without trying out a traditional Finnish sauna.
Did you know that there are more saunas than cars in Finland?
Hope that helps to explain the mad obsession that Finns have for the sauna. Almost every Finnish home has one.
Check out Löyly's unique design located along the Helsinki coast.
For those brave enough, you can enjoy a dip into the refreshing cold sea after you've enjoyed your sauna session.
Visit the Fortress of Suomenlinna
One of my favourite things to do in Helsinki is to visit the Fortress of Suomenlinna.
Grab a short boat from Helsinki harbour over to Suomenlinna fortress. The journey time is roughly a few minutes. If you have a HSL day card you can use this to cover your boat fare.
The fortress itself has helped defend Helsinki since the 1700's and is nestled within the islands of Suomenlinna.
The fortress has been kept well preserved and is a UNESCO World Heritage Site due to its military architecture.
For the adventurous types you can find a hostel located on the island which makes for a unique stay in Helsinki.
Pro tip: For those avid fans of Pokémon, this is possibly the best spot in the whole of Finland to catch them all.
Check out the Cathedral of Helsinki
If anything big happens in Finland such as winning Eurovision or the ice hockey world cup, a common Finnish saying is: "We will meet at the Senate Square!" (Torilla tavataan!)
At the Senate Square you will find the Cathedral of Helsinki in all its glory surrounded by cobbled lined streets looking all white and majestic.
The Cathedral of Helsinki is located on top of a small hill within a short distance to the harbour and a 10-minute walk to the city centre.
If you start to feel hungry, be sure to head to the market area of the harbour to try some traditional Finnish salmon soup, served by a local vendor.
Head inside and have a look around the most iconic building in all of Finland.
During Christmas, you will find a festive Christmas market here selling homemade crafts from Lapland.
Bonus tip: Take a day trip over to Tallinn
This is a bonus tip: Estonia is easily connected to Helsinki with daily ferry departures by Eckeröline.
Tallinn can be visited within a day and it is totally possible from Helsinki.
Once you arrive in Tallinn simply walk from the harbour into the old town and explore this medieval city for the day.
Hop on over to Tallinn to visit one of the most popular capitals amongst the Baltic states.
Enjoy exploring my secrets to Helsinki
Thank you for checking out my hidden secrets around Helsinki. Hope you have a wonderful time exploring this awesome city and don't forget to get lost in nature and enjoy exploring all these unique urban areas. Kiitos.
Guest blogger: Follow the UK's leading solo adventure travel blogger, Dave Brett on his travels around the world. He runs an adventure travel blog that features travel tips and advice, inspirational stories, travel videos and travel photography that will help you inspire and plan your next trip abroad. Be sure to follow Dave on Instagram, Facebook and Twitter.
Showaround: Thank you Dave for being our guest blogger!