Discover Brussels in Two Hours
People rightfully ask us if one day is enough to get the feel of a city? That's a tough one. However, we managed to see the best of Brussels only in two hours. So, if you want to dig a little deeper, but you have a very limited amount of time, consider asking a local to show you around.
Let me explain what you can expect from a few hours in the capital of Belgium and home of finger-licking waffles. We met Jacob, a history student and beer aficionado, at Porte De Hal, a medieval city gate.

Photo: Porte de Hal
From there, Jacob took us to the Marollen which is one of the oldest neighbourhoods in Brussels. There we visited a real flea market, with quite a variety of things, at the Place du Jeu de Balle. But here, you definitely need patience to see it all, too.

Photo: The flea market at the Place du Jeu de Balle
Eventually, it was time for a long-awaited panorama of Brussels. We took a glass elevator to Place Poelaert, where's the great view of Brussels and the Palace of Justice just next to it. The Palace of Justice is also known as the largest building constructed in the 19th century.

Photo: The Palace of Justice
And now it's time to count.. the short tour has included 8 more worth-seeing spots, and we managed to visit all of them only in two hours! We ended the tour at a local bar called the Monk bar. There the three of us had a few pints of Geuze and Bourgogne des Flandres beer, a local Lambic beer recommended by Jacob.

Photo: One of the guided tours with Jacob
When asked how did he plan the tour around Brussels, Jacob said, "I planned the tour based on experiences I had from tours I did before, on my good knowledge of the city and with a little help of Google Maps - especially to check if the distance of the tour I had in my head was okay to do in two hours."
According to Showaround local, a key element of a good tour is finding the right pace, "You shouldn't have to run, but also you shouldn't disappoint your guests. I think it's something that can only be learned with experience", he said.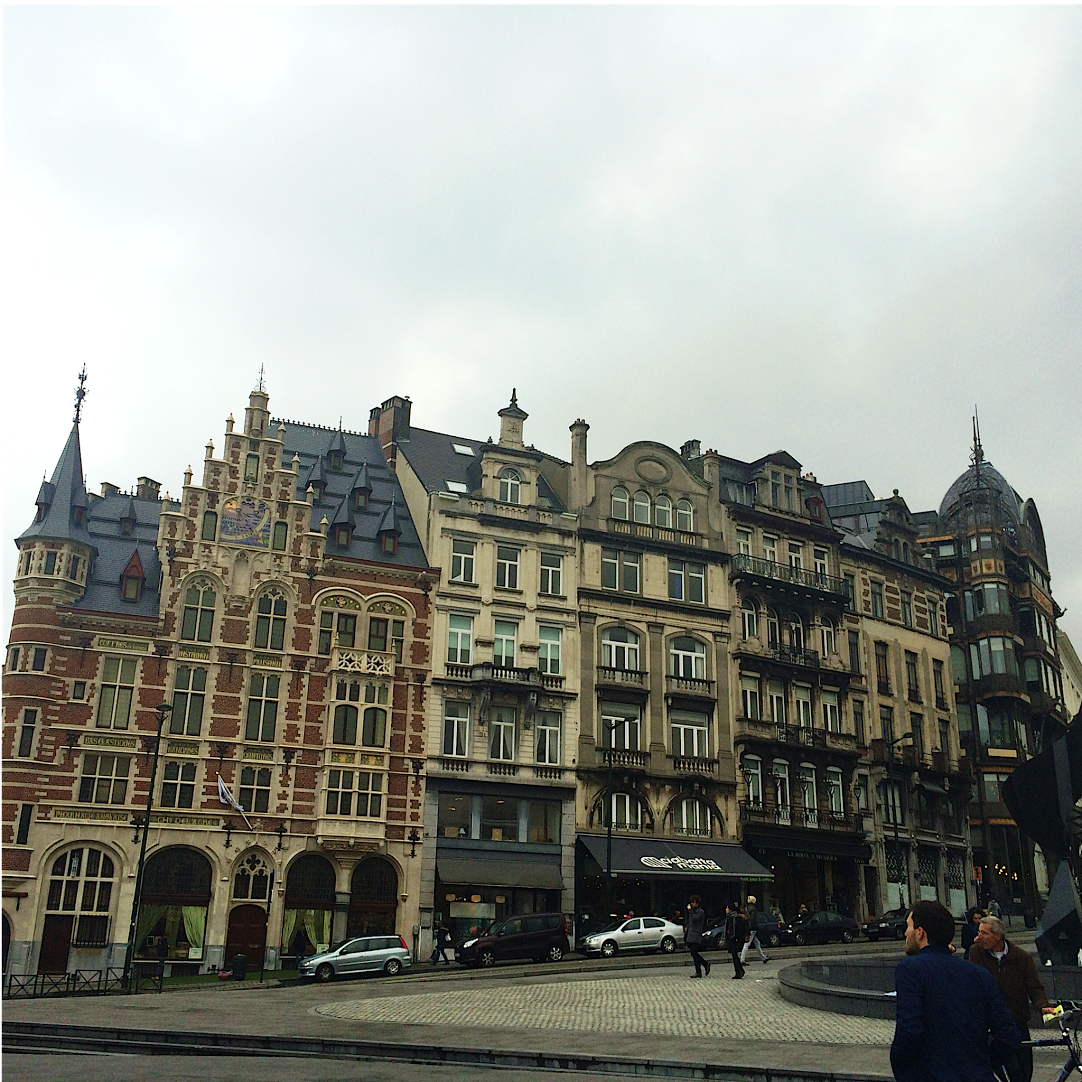 Photo: Ornate buildings in the Mont des Arts
Jacob added that once you're in touch with the person that has booked you, "You can discuss what your guests are interested to see, for example, in this tour I tried to include at least two good views in the city center. Also, a Showaround tour has more informal and personal atmosphere, and there is more flexibility during the tour to adapt it according to the wishes of the guests."

Photo: the famous statue of Manneken Pis
The flexibility of tailor-made tours is a part the philosophy that lies behind the concept of Showaround. It's worth remembering in advance that the best piece of advice you can get in a new city is from a local. And if you really want to get under the skin of Brussels, two hours might not be enough for some, but that's a good start, especially if you have someone as knowledgeable as Jacob to guide you.
#PorteDeHal
#Marollen
#PlaceduJeudeBalle
#PlacePoelaert
#ThePalaceofJustice
#MannekenPis
#Monkbar