Barcelona: A Guide I Would Give to My Best Friend
This guest post was written by Turner Barr.
The secret has long been out about the glory that is – Barcelona – or as a tourist with a lame attempt at sounding like a Catalan – Barthelona. From the surreal architecture of Gaudi that strikes you like a weird yet lovely concoction of Picasso meeting a Hunter Thompson novel, to the endless supply of restaurants to dip into – the city is addicting. What is not so addicting, and also in endless supply, is the gaggles of tourists waddling la Rambla, tainting the illusion that you have in fact found that paradise lost that makes even the most harden traveler feel wanderlust all over again.
Despite the long queues if you want to check out Gaudi's creations, Barcelona is still the city I dream of when I get nostalgic and feel in need of a hot, sultry night filled with libations and bite sized treats. So if you have never been to Barcelona, fear not, you don't have to go all out luxury Barcelona weekend to avoid elbowing with the tourist masses. Likewise, you don't have to skip out on some must see sites just because everyone else also knows about them too.
So without further adieu, here is my list of go to spots that keep me up at night wondering why I ever left Barcelona to begin with. Some are well-known tourist musts, while others it took a bit of trial and error for me to discovery.
*A final word of warning – keep your ears, eyes and tastes buds open when hitting the not-so mean streets of Barcelona, because I could write this list 50 different ways with 50 different recommendations and still be thirsting for more.
Excellent tapas and a cool vibe await you in this neighbour (Gracia) haunt. Get pumped to take the tapas plunge.
Tucked away on the edge where the trendy born neighbourhood meets the Arc de Triumph, this little gem will make your taste buds love you all over again. I think about their duck carpaccio with shaved foie gras and it gives me goosebumps. No hyperbole.
Who needs a boozey pub crawl when you can have a boozey pub crawl with pintxos? This up and coming area has bars and restaurants serving up pintxos (a particular type of tapa featuring a slice of bread with a ration of Spanish goodness on top) and cheap drinks to get your evening started right.
Head down to the Puerto Olympic marina for cheap and plentiful eats
One of the more glaring tourist spots near the beach is also one I embrace with open arms (and an open belly). If you are looking to get down with the menu-del-dia, these marina spots offer appetizers, a huge plate of paella for two and a bottle of wine for 10 euros (assuming you bring a partner in crime to share with). Yes – only 10 Euros and you will be stuffed before your tapas night out.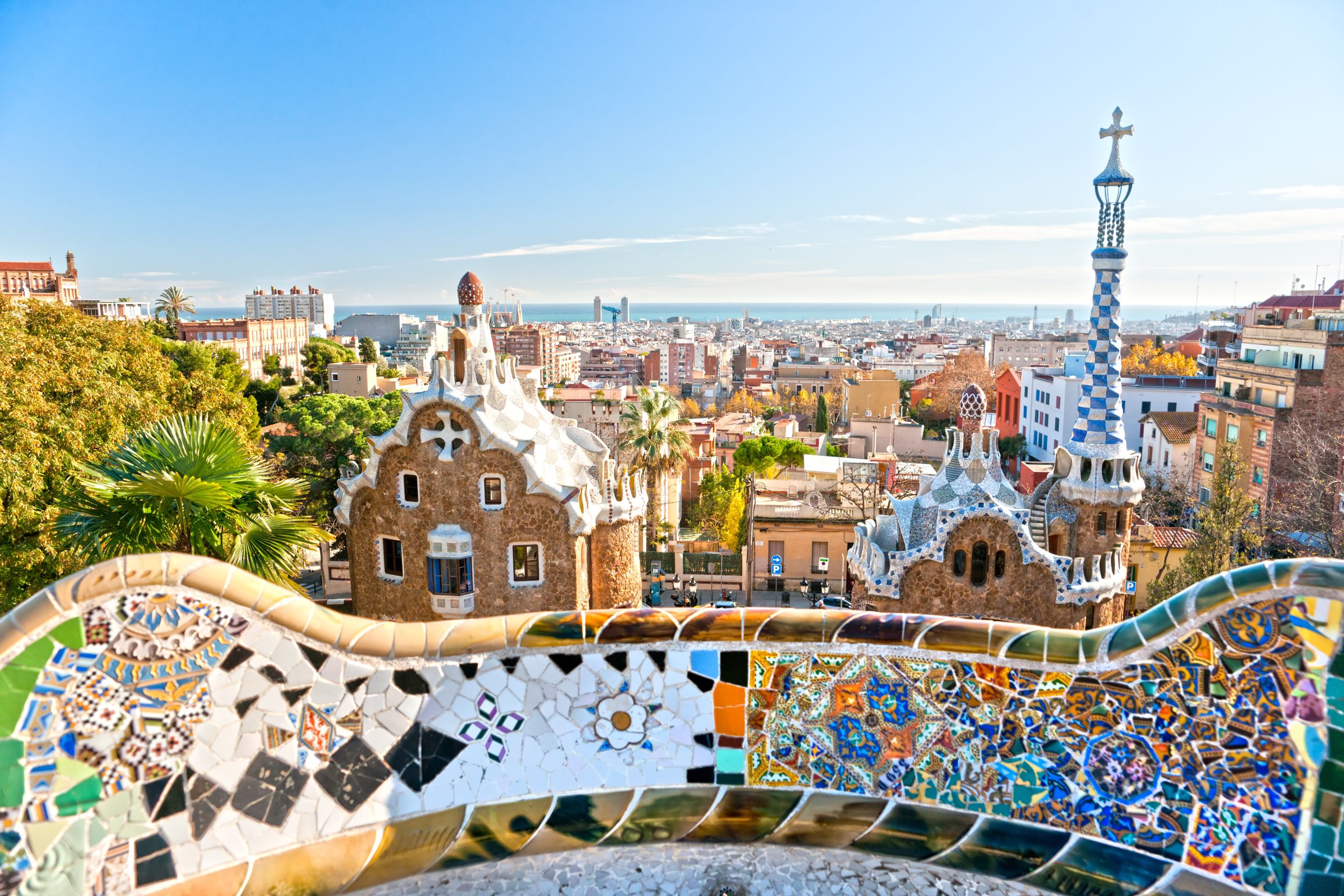 Next to Sagrada Familia, Park Güell is probably the most iconic of Gaudi's work. The government here issues tickets in advance that you can buy online. It is worth the effort and the occasional tourist stepping on your toes to visit this candyland-esc dream world.
Probably the most famous site in the city. I won't say that a trip to Barcelona is complete without it, but the inside is even more impressive than the outside with the remodeling making some headway.
A trendy and happening neighborhood, these little hole in the wall bars pack a mean, fun punch.
Bar Marsella aka Ernest Hemmingway Absinthe bar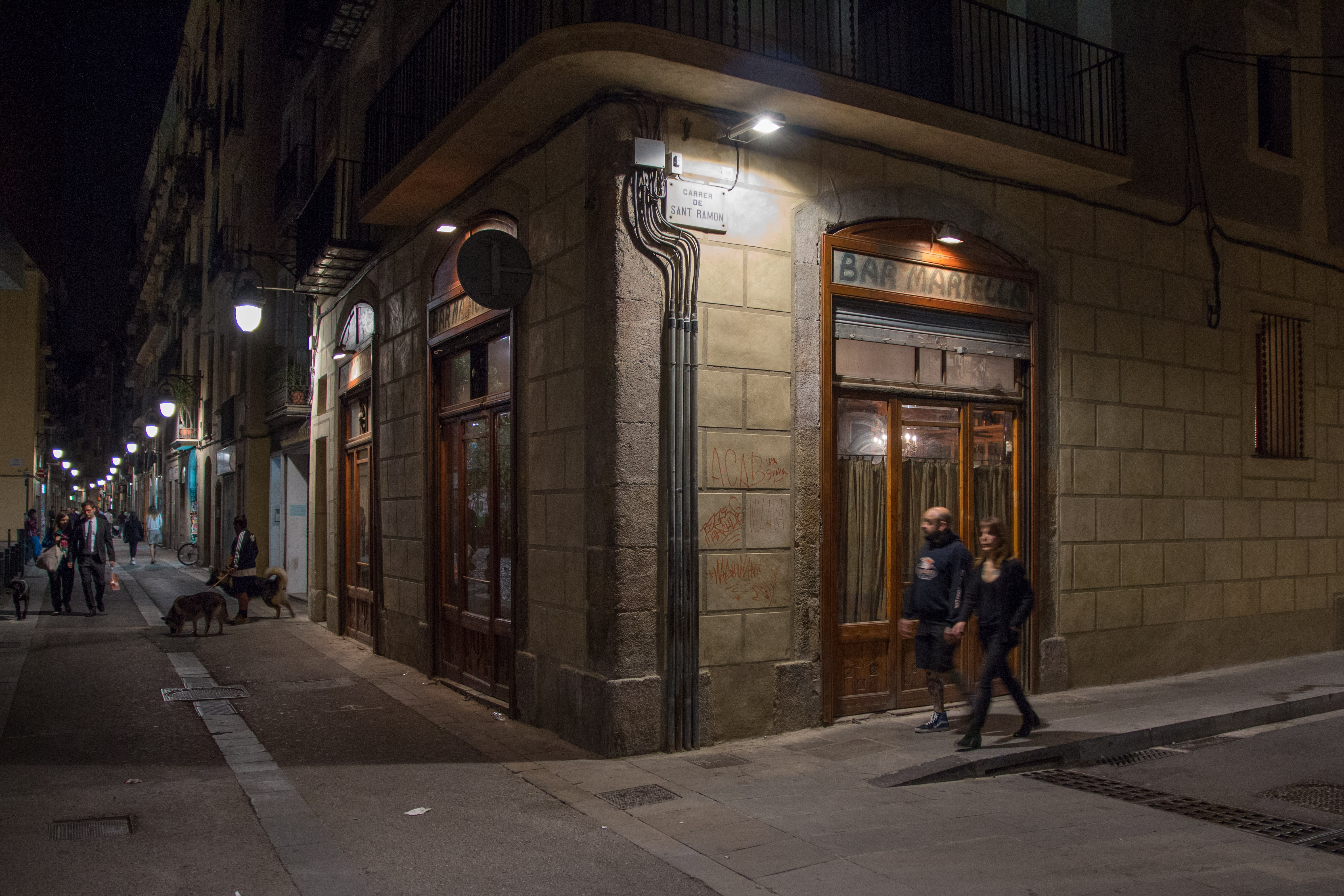 This little hole in the wall on the quiet side street is definitely graced many of Barcelona's must-see lists, yet it still maintains an air of yesteryear. A little absinthe will help jump-start your night, trip, social life – etc.
Check out a movie at Sala Montjuïc
Outdoor movies on hot summer nights in a castle on a hill. Yeah – it sounds dope show because it is. Don't forget to bring wine and cheese.
Volleyball at Platja del Bogatell
One could easily just lay at the beach gazing at the scantily clad all day (scantily is a generous adjective), but for those wanting to get a little dirtier, you can try to jump in on one of the many games being played all day long. You can also use meetup.com to meet up with different volleyball groups.
Stroll Villa d'Gracia, El Born, and the Gothic Quarter
All fun and very different neighborhoods. You can drink and eat all day and night here and it would be not be a wasted day.
This place services up bite sized treats and cava. It is popular with college students and tourists alike. Expect bump-age with neighbors also devouring cava. Don't be shy or leery of seeing a place brimming with tourists.
Hike the top of Carmel Bunkers
You won't find the tour bus here, and the hike to the top would probably kill the typically tourist anyway. But hike you must. You will be rewarded with sweeping panoramas of BCN. Don't forget to pack the victory wine and cheese.
Rooftop Bars
If you want to get a birds eye view of the city and escape the crowed and hot streets of BCN, check out one of the many roof top bars the city has to offer. You can hang out in stylish décor and chill to the beat of some house music too.
Take a much need break from the tourist and city bustle and chill out in Parc de Laberint d'Horta – interesting park that has beautiful gardens and an even cooler maze.
Rub elbows with the tourist hordes at Magic Fountain. You can scoop up a bottle of cava and enjoy the dancing fountain show from just about any vantage point and best of all it is gratis.
Guest Blogger: Turner Barr is the man behind the adventure blog American Travel Blogger – a site where he chronicles his eating and strange escapades traversing the globe. When he is not stuffing his face with local cuisine in faraway lands, you can find him shelling out dating advice or taking weird jobs around the world.
Showaround: Thank you Turner for being our guest blogger!