A Local's Guide to Valletta
This guest post was written by Dariece Swift.
The little island of Malta sits quietly in the Mediterranean Sea with Tunisia to the west, Libya to the south, and Sicily to the north. Because of this interesting positioning, the country is a melting pot of culture, history and people.
Its capital city of Valletta is quite possibly the most incredible city in all of Europe! This UNESCO listed, fortified city is not only aesthetically pleasing but offers exciting activities, wonderful restaurants, and gorgeous architecture.
Must-See's and Must-Do's
Many people spend the day visiting Valletta, but we recommend either spending the night, or returning to the city numerous times during your Malta trip.
Upper and Lower Barrakka Gardens: These gardens offer incredible views across the Grand Harbour and over to the Three Cities. The gardens are public and are worth wandering around both during the day and in the evening. Don't miss the terraced arches, and the monuments and memorials.
Manoel Theatre (Teatru Manoel): This is one of the oldest theaters still in use today. If you're lucky, you'll be in Valletta when there is an orchestra! If not, you can still visit on a tour, but definitely try to see a show - the acoustics are fantastic.
St. John's Co-Cathedral: There are 359 churches on the islands of Malta and Gozo! Don't miss St. John's which is located in Valletta. This is one of the finest examples of Baroque architecture in Europe and is said to be one of the greatest cathedrals in the world.
Unique Balconies: This isn't one particular site, but in Valletta, you can see the highest concentration of traditional Maltese balconies than anywhere else on the island. These bright coloured, enclosed balconies were typically used by older women, who would discretely sit inside the balcony, while spying on their neighbours!
Republic Street: This pedestrian-only area is a great place to wander, shop and eat.
Walk the Walls: A walk around the outside of Valletta's walls is a must. The city is on a peninsula, so you'll have water on one side, and the walled city on the other. From here you'll be able to see great views of the natural harbours, and forts.
Where to Eat
Valletta has a wide variety of restaurants, featuring cuisine from all over the world. Here are our top choices:
Michaels: Owned by a father and son chef duo, this restaurant is a great place to sample modern Mediterranean cuisine. Make sure to make a reservation.
Caffe Cordina: This cafe has been around for 175 years! The food here is OK, but the outdoor setting on Republic streets makes up for the average food. Regardless, this is still a great spot to come for a coffee, or a beer.
Soul Food: If you're looking for wholesome, vegetarian food, this is the place to come. Located on Merchant Street, the restaurant is small, and is always busy.
Guze Bistro: Located in a 16th-century building, this is one of the top restaurants in Valletta. The seafood here is a popular choice.
Turkish Food: There are many shawarma and Turkish food shops in Valletta, and in Malta as a whole. Stop in for a cheap and delicious meal at any of them.
Where to Drink
Valletta has only recently become a nightlife hotspot. Up until a few years ago, the streets were empty come dark! Thankfully, the old town has been restored and cleaned up, and now there are many places to go in the evening.
The historic Strait Street was once the go-to place for rowdy British sailors! It was filled with bars and brothels and was a fairly seedy place. These days, it's a funky street with great atmosphere and affordable booze.
Loop Bar: This 1950's styled bar has mismatched tables and chairs lining the street and loud music coming from inside the restaurant. Often there is live music here as well.
Yard 32 Gin & Tapas Bar: Have you ever been to a gin bar before? We hadn't until checking out this one in Valletta. This Spanish style has over 45 different types of gin and homemade tapas.
StrEat Whiskey and Bistro: A whiskey bar serving whiskey and other alcohol. Plus, they have a large and affordable menu. Located on Strait Street.
Trabuxu Wine Bar: Again, this bar is located on Strait Street, and is definitely worth visiting. The bar is set in a 400-year-old, vaulted cellar!
Getting There
Travelling by car is a bit difficult in Malta, as there is a lot of traffic, drivers are a little bit aggressive, and for those who aren't from the UK, they drive on the left-hand side of the road! A great option for getting to Valletta is by bus.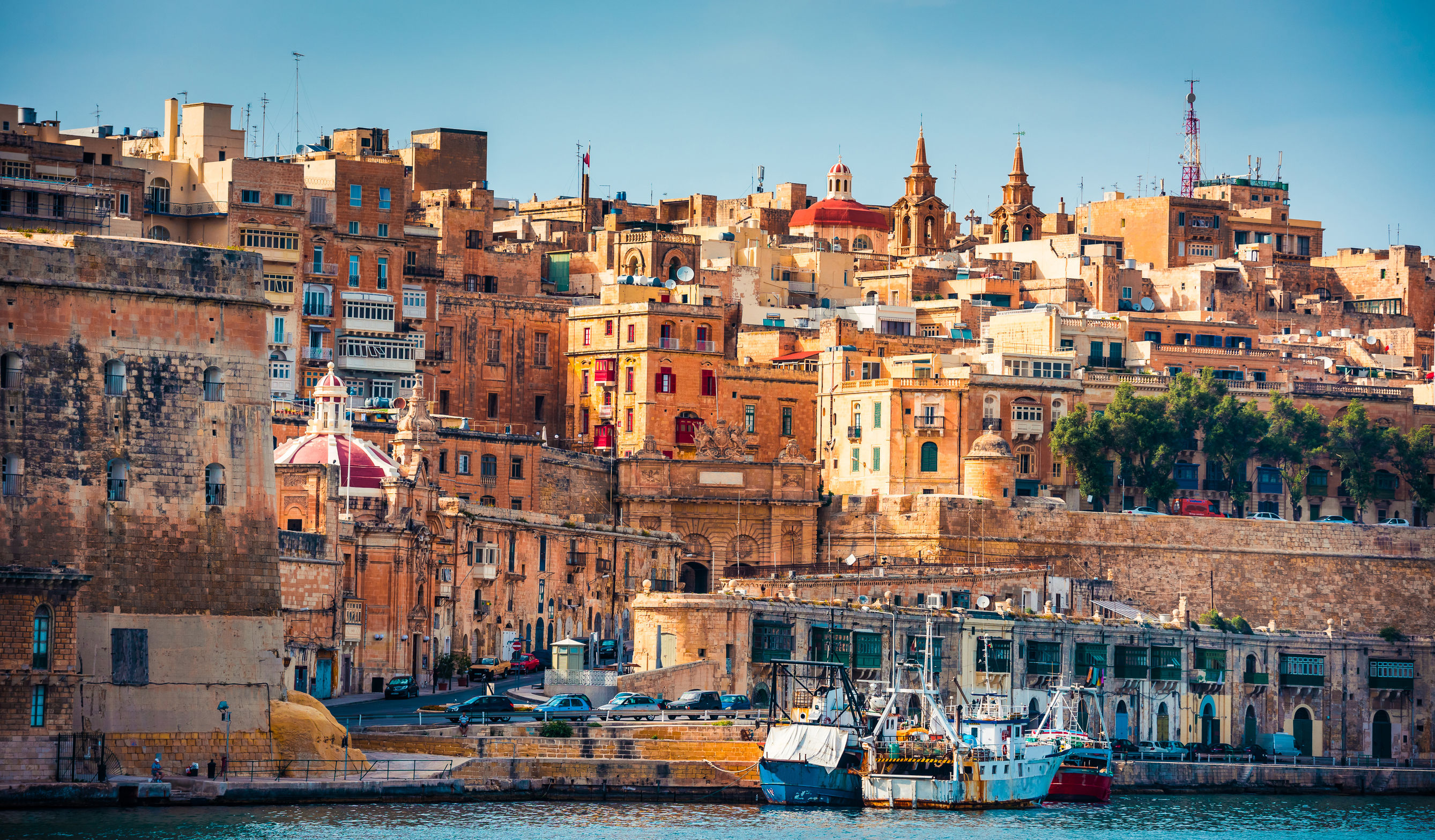 The bus system in Malta is excellent, and Valletta is a well-connected hub. If you are in the city of Sliema, you can take the ferry-boat for just €1.50, one way, or €2.80 return. The boat takes just 5 minutes to get from Sliema to Valletta and the views from here of the capital city are amazing.
Guest Blogger: Nick and Dariece are the couple behind Goats On The Road, a website designed to show others how to turn their travels into a lifestyle. Masters at making money abroad, they've been on the road since 2008 and have explored some of the least visited places on earth. Follow them for travel advice, and to learn how to start a travel blog so that you too can travel more often.
Follow them on Twitter, Facebook, Instagram and YouTube.
Showaround: Thank you Dariece for being our guest blogger!