A Guide to Notting Hill: London's Prettiest Neighbourhood
You'd be hard-pressed to find a London neighbourhood more colourful and quaint than Notting Hill. Full of pastel-hued townhouses and hidden mews streets, delicious cafes and charming antique stores, there is so much to discover.
If you're looking for a quintessential London experience, our guide to Notting Hill will take you through the best that this charming district has to offer.
Eat
From sophisticated restaurants to cosy pubs, Notting Hill's food scene is pretty diverse. If you're on the hunt for coffee or brunch, join the queue for a table at Granger & Co, Daylesford Organic or Farm Girl – three top neighbourhood favourites.
Fill your belly with a low-key lunch at The Rum Kitchen, Al Waha or Pizza East. For something special, make a reservation at Michelin-starred The Ledbury, one of Great Britain's best restaurants.

Grabbing a drink at The Churchill Arms is non-negotiable when you're in Notting Hill too. It's perhaps the most famous and eccentric pub in all of London and has been open since the 19th century. It's a piece of history!
Shop
The iconic Portobello Road Market is one of Notting Hill's main drawcards. The largest antiques market in the world, it's the star attraction of the neighbourhood on weekends when it's open. You could easily spend a whole morning there searching for treasures.
Westbourne Grove is another of Notting Hill's iconic shopping destinations. Come for brunch at one of the pretty eateries dotted around and, afterwards, browse the high-end boutiques lining the street. Don't forget to pick up a bunch of blooms at Wild at Heart before you leave too.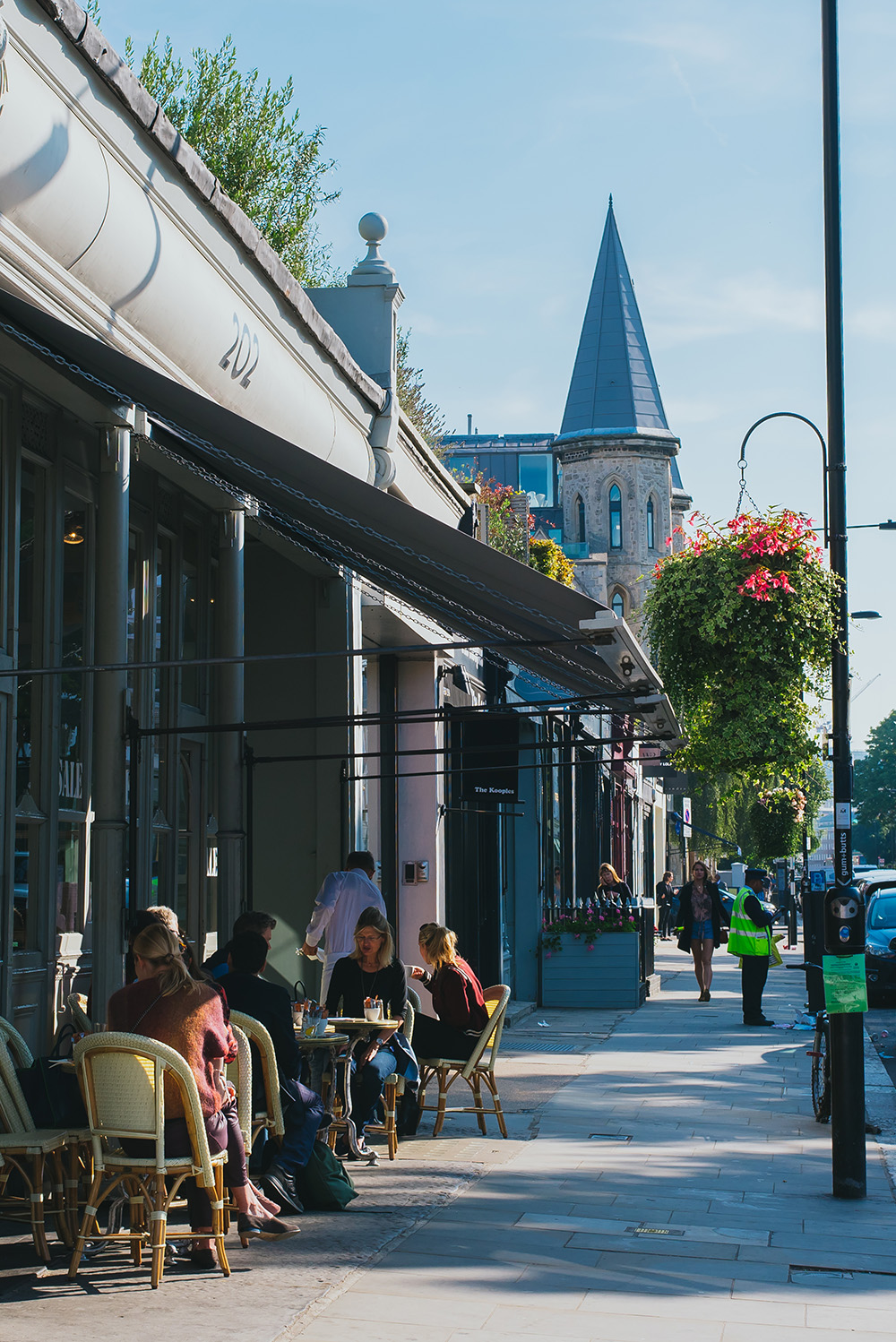 Notting Hills is also loved for its beautiful bookshops. Be sure to pop into Luytens & Rubinstein or the Notting Hill Bookshop to grab a new read.
Explore
By far, the best thing you can do in Notting Hill is to wander aimlessly around. Venture off the main streets and you'll find rows upon rows of colourful Victorian townhouses that are every Instagrammer's dream. Find houses painted all the colours of the rainbow on Lancaster Road and see more pastel tones on Chepstow Villas.
Notting Hill is also home to a few of London's most beautiful mews streets. Historically, a 'mews' was a small service road running behind the grand houses where wealthy families would keep their horses in stables. Nowadays, those stables have been converted into the most charming and quaint little homes and have become some of London's most prized real estate. Be sure to wander down St Luke's Mews (you might recognise it from the film Love, Actually) as well as Colville Mews.
If you're lucky enough to be in town during August, you might be able to time your visit with the Notting Hill Carnival, Europe's biggest street festival. Every year for two days, the streets are transformed into a vivid spectacle celebrating London's Caribbean communities and their culture and traditions. Full of dancing, masquerades, reggae and salsa, the carnival is a clear highlight for any party lover.
This guest post was written by Rachel Bale.